Office Closure
Please note that we will be closed on Saturday, March 1st. We apologize for any inconvenience this may cause.
See Us on CTV News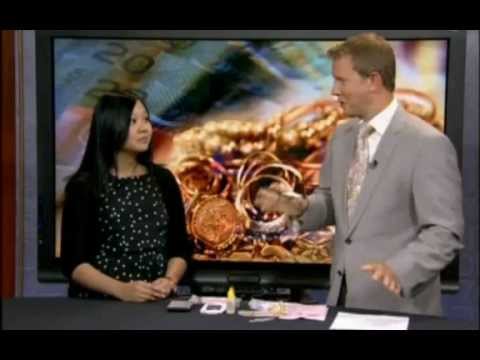 What We Pay
| | |
| --- | --- |
| 1oz Maple Leaf Coin (9999) | $1,446.91/coin |
| 9999 Canada Maple leaf, less than 1 ounce | $46.52/g |
| 24k Jewellery | $35.01/g |
| 22k | $32.07/g |
| E. Indian/Nuggets | $28.43/g |
| 18k | $26.26/g |
| 14k | $20.41/g |
| 10k | $14.57/g |
Prices Updated: 2014-03-11, 06:57:15 AM
Get the Latest in Gold Prices and News!
Calgary gold, silver & platinum buyer
If you are looking to cash-in your precious metals in Calgary, you have come to the right place. Calgary Gold Buyer is brought to you by Canada Gold, one of the country's largest and most-trusted gold buyers with 12 locations from coast-to-coast, and fully accredited by the Better Business Bureau. We are dedicated to offering the highest possible value for your gold, silver and platinum.
Calgary Gold is a Canadian owned and operated business and it is our mission to provide the absolute best customer service and highest payouts. Whether you visit us in person at our location in Calgary or mail us your gold via our insured, secure mail in program, you are guaranteed to receive the absolute best payout for your gold in Calgary. Cash In Today!
In addition to our price guarantee, you will be happy to know that our process here at Calgary Gold is completely transparent. We post our prices daily and test your gold right in front of you. There is no obligation to sell, and you will know the exact value of your gold and other precious metals before making your decision to sell gold.
With gold prices are near all time highs, now is a great time to sell your unwanted jewellery, scrap gold, silver jewellery and more! Find out why our customers consider us the most trusted gold buyer in Alberta. Stop by today for a free estimate.
Selling Your Gold

As one of Calgary's largest gold buyers, we have served thousands of customers. Our goal is to provide the best service and payouts, and to earn your repeat business and referrals. We encourage you to research the prices offered by other gold buyers. We have not found any that exceed ours. Drop in to our Calgary gold buying office today for your free, no-obligation assessment.

Items That We Buy:

As one of Calgary's largest gold buyers, we have served thousands of customers.

Gold Jewellery
Bullion
Scrap Gold
Estate Lots
Watches
Gold & Silver Coins
Nuggets & Placer Gold
East Indian & Asian Gold
Gold & Silver Bars
Dental Gold
White Gold
Silver
Platinum
and more!

Latest From Our Blog

See Us on TV:

As one of Calgary's largest gold buyers, we have served thousands of customers.